Happy Friday! I'm sitting in a hotel in sunny Southern California waiting to begin Day 2 of Blogfest! Bootcamp with #sweatpink kicks off the day bright and early! That's a lot of exclamation points but that's exactly how Blogfest is…full of excitement and exclamation points
While I'm away I have a special guest for you. Meet Carly, the voice behind Fine Fit Day.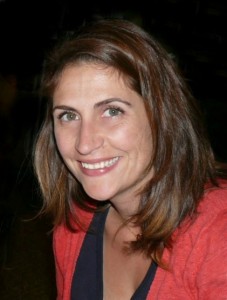 Carly Pizzani is a mama to a rampaging toddler, a certified personal trainer, the author of the fitness blog Fine Fit Day, a freelance writer, and an ex-pat Aussie living in Brooklyn. She loves running, lifting weights, yoga, spin class, dancing with her son — basically anything active. Keeping mamas (and mamas-to-be) fit, healthy and motivated is what she loves most about her job. You can connect with Carly on Twitter, Facebook, Pinterest, and Instagram.
---
If you've ever had a personal trainer, or considered hiring one, you know that finding the trainer who's the right fit for you is easier in theory than practice. Having one-on-one sessions is not inexpensive, so you want to make sure you get the most possible value to make it an investment, not a luxury. Whether you ask to get paired up with a trainer at your gym, or you rely on word of mouth for independent trainers, it's worth doing research so you don't waste time once you really get going with your workouts.
Here are 6 tips for choosing the right personal trainer – for you!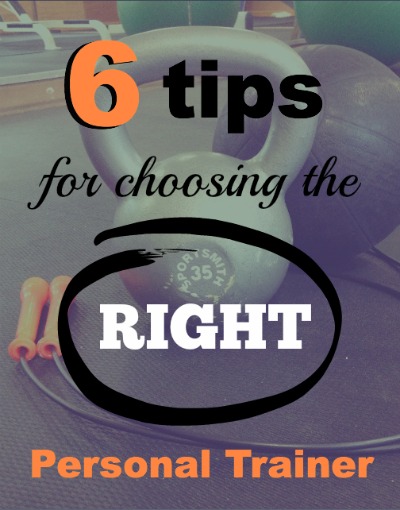 If you don't know what your goal is, they won't either.
Why do you want a trainer? I've heard just about every goal you can imagine from potential clients. I also know how nervous people get when they're meeting a trainer for the first time. Being asked, "So, what made you decide to hire a personal trainer?" can be a daunting question when you're feeling vulnerable already. Maybe it's hard to put into words, maybe all of a sudden you think it sounds silly (trust me, it doesn't), maybe you think you should say what a trainer will want to hear, rather than what you really want. But it's just more productive if you open up from the outset. The more specific your goal, the better your trainer can program to achieve the results you want.
Personal training isn't open-ended.
Training is supposed to end. When I'm training a client, it's with the design of them being able eventually to stop working with me and be able to work out independently, with a good knowledge of form, exercise progression and safety. There are always exceptions, of course. Some clients may be able to work out independently, but prefer to have a trainer. Some people use a trainer as their accountability partner. But if your goal is to be able to do this on your own, your trainer should be gung-ho about getting you to the point where you can work out by yourself.
Assess the way they assess.
Your first session with a trainer should involve assessments. If you were to meet with me for a first session, we would spend time talking about goals, health history, current fitness and injuries. Then we would do resting assessments – blood pressure and resting heart rate as a bare minimum, but usually weight, girth measurements and body fat percentage, too. Finally, I move on to active assessments – simple exercises to gauge strength, movement patterns, and cardiovascular fitness. Some trainers prefer to do more active assessments and talk with you during these assessments. Regardless of their method, ask yourself these questions: Are they listening to you? Can they explain the reason they are doing a particular assessment? Do you feel comfortable with them?
Be open-minded, but don't be afraid to ask questions.
Each trainer has a different style and way of programming. Whether you're totally new to working with a trainer, or you've worked with someone with a different style before, stay open-minded about their ability. If you really feel like the way they are training you is not in line with your goals, or you're confused about their technique, then ask questions. Your trainer should be able to explain how and why they've selected exercises, or weights, or any part of your program – without getting defensive.
The way they look has nothing to do with how they will train you.
Have you heard the advice to select a personal trainer by choosing someone whose body looks like how you want to look? This is terrible advice for two reasons. First, body type is largely genetic, so this makes about as much sense as going to an optometrist with blue eyes because you wish your eyes were blue instead of green. Second, there's a common misconception that a trainer's sessions with their clients are exactly the same as their own personal workout, or are the same regardless of what client they train. A good personal trainer writes your program just for YOU. In the same period of time, I have had a pregnant client; an elderly client with back pain; a client training for a marathon; someone fresh from physical therapy for an MCL injury; a client with a major weight loss goal; someone trying to gain muscle and increase weight; and another who was maintaining a 5 year weight loss. Some of these clients were male, some were female. Their ages ranged from 20 years to 76 years. If I used the same program for all of them, I'd not only be a terrible trainer, I would be negligible.
Determine their qualifications.
Here's what you should know before selecting your trainer. Whether they work through a gym, or they're an independent trainer, there are a few must-haves for any fitness professional. First up – check out what training they have. Be aware that the personal training industry is pretty loose and unregulated when it comes to what kind of qualifications make a personal trainer. Your hair stylist needs a license to practice their craft, but your personal trainer does NOT. Ask them what certification they have. Most trainers will have a national certification, accredited by the National Council for Certifying Agencies (to check which certifications are accredited, you can use this directory search). Some newer trainers, especially in a gym, may not have certification yet. That doesn't mean they don't know what they are doing, but it is likely they are newer to the profession and may not have much expertise or specializations – something that may be particularly important to you if you have any kind of injury, or special circumstance. Use your judgement – for example, if your trainer does not have a national certification, but he or she has a college degree in Exercise Science and continues to attend continuing education courses, then you're most likely in excellent hands.
As well as certification, make sure your trainer is CPR and first aid certified. This should not be optional for you when choosing a trainer, for obvious reasons!
Finally, check out their insurance coverage. Most often, trainers who work in a gym are covered by the gym's liability policy, but always double-check, as smaller gyms often hire trainers as independent contractors. Any independent trainer should have their own insurance policy to cover themselves and their clients, regardless of where they train.
Above all, you should feel comfortable with your trainer. They don't need to be your friend, but you should be confident they know what they're doing and that they will help you achieve your goals. If you know it's not the right fit, chances are they also know it's not working. It may remind you of a 'break up', but it doesn't feel that way from the personal trainer's perspective.
Do you, or have you ever had a personal trainer? How did you choose them?
What's a red flag for you when it comes to trainers?
---
Be HEALTHY. Be HAPPY. Be YOU.
Let's stay in touch!
Twitter | Instagram | Facebook | Google+ | Pinterest
Sign up to have Jill Conyers – Fitness, Health and Happiness sent to our inbox.
[inlinkz_linkup id=435830 mode=1]